Archives by Tag 'Movie'
By DD - Last updated: Saturday, August 16, 2014
Mama D and DD just returned from an 8 day trip to Victoria, British Columbia and it was one of the best vacations we've ever had. We packed a lot in those 8 nights and 7 full days of sightseeing. We hope this itinerary will inspire you to plan your own trip to Victoria, British Columbia, one of the best destinations in the world!
To minimize jet lag, we went to bed early every night, between 8 and 10pm. We were early for breakfast and the dining room was quiet which was a bonus.
Day 1
We took a day trip to Vancouver with Pacific Coach Lines. We had to get to the bus depot early and left the hotel at 7 am. The station really could use a makeover as it is the blandest and boring places ever. Our morning driver with a Scottish accent was a grumpy character. We were fortunate to be waiting in line along with a British couple from Yorkshire going to an Alaska cruise. They had a great sense of humor and laughed about it all.
The ferry ride to Vancouver was awesome. It is number one on the National Geographic 10 best boat rides in the world. We spotted a sea otter and had lunch watching the islands go by. It was windy on the upper deck but we had our wind jackets. The ocean was calm and DD didn't have a problem with motion sickness. Once in Vancouver we took a cab from the closest stop – Empress Hotel – to go to the Vancouver Aquarium. We enjoyed our visit very much and hope the belugas, dolphins and sea lions will stay. We got back to Victoria with Mama D'S friend and her 8 year old son who came for the night to spend the next day with us.
Day 2
We started the day with a guided tour of the Legislative Building where we had to leave before the end to go to our Hippo tour, an amphibious bus that goes in the water.
It was a fun 1.5 hour tour for an 8 year old boy who sat on the right side of the bus to make sure he would get splashed while rinsing the bus when we came out of the water.
We came back to our hotel – Harbour Towers – for lunch and then went to Miniature World where we were transported into another time and dimension. After the visit our friends still had some time before their return to Vancouver so DD and the boy went to the Bug Museum to look at some giant cockroaches, tarantulas and a colony of ants living in translucent tubes. We went with our friends to the Pacific Coach Depot and DD had a long chat with the Security man – a retired pharmacist -who at 80 years old with cancer was still trucking.
Day 3
We spent the whole day at The Royal BC Museum and watched 3 IMAX movies: Rocky Mountain Express, Vikings Journey to New Worlds, and Island of Lemurs: Madagascar. What a day! We had a picnic right outside in the park, past the coat check where we were able to leave our insulated lunch bag while we visited.
While we were waiting in line for one of the movies, we had a nice chat (and a good laugh) with a retired preventive medicine practitioner who was wearing his 3-D glasses as he thought they were his regular sunglasses! He had such an interesting story, having traveled to 40 Countries and studied in Chicago with 7 degrees… it seemed like an incredible journey and DD asked him if he had seen the Twilight Zone episode where a compulsive liar is abducted by aliens because he knows so much and then he is forced to admit it was all lies and then when asked by his patrons where he had been, they don't believe him of course. Anyhow, the episode is called "Hocus-Pocus and Frisby" and the man with the 3-D glasses had seen it too!
Day 4
We visited the lobby of the Empress Hotel, shopped at the Salvation Army, Value Village, and walked through China Town's Famous Fan Tan Alley.
We had lunch at the vegetarian restaurant Green Cuisine where Aunty J works and DD was able to have a meal in a restaurant which hadn't happened in a long time! Of course she wasn't able to have any of the soy based meals but at least she had a nice plate with lots of rice and veggies.
After lunch we went to the Maritime Museum where we were told about the resident ghosts in which DD doesn't believe and attributed the knocks in the wall to carpenter ants.
We took a ride in the oldest birdcage elevator in North America which is 2nd on the National Geographic list of the world's best elevator rides! Unfortunately we weren't able to see the courthouse because there was a private party.
Day 5
Aunty J picked us up at the hotel and drove us to the Butterfly Gardens and to the Butchart Gardens where we started with an awesome and refreshing boat tour.
It was a very hot day, especially in the sunken garden but it was worth it. We were parked in the rabbit section: how cool on such a hot day! We ended the day with a stop at Aunty J's house where we ate cherries and blueberries watching hummingbirds and admiring her collection of wooden mechanical toys. We had the chance to hear her better half play an original song on the piano for us!
Day 6
We booked a private all day guided tour with Trev's Adventure Tours of Victoria and it gave us a better idea of what Victoria and its surrounding was. We saw some neighborhoods around Victoria and went to many places tour buses don't go. We had a picnic at the Lagoon behind Hatley Castle watching birds and later visited – among other places – the Best Western Premier Prestige hotel in Sooke where DD and Dami would love to stay at one day.
Day 7
Our last day was spent visiting Craigdarroch Castle, Government's House's Gardens, another lunch at the Green Cuisine Restaurant at Market Square on Johnson Street, and lastly we took a boat taxi ride to Fisherman's Wharf and we walked back to the hotel.
What a nice trip! We could've have easily spent another week as there were more places to visit but it will have to be another time. We loved our hotel and loved the city. Our room was facing the harbor where we saw the Harbor Air planes, the boat taxis, the ferries from Washington USA, the Empress Hotel lit up at night, the seagull families on the roof of the hotel across the street, the fireworks on August 3rd, and the beautiful sunrise. We loved Victoria, BC and will return one day!
By DAMI - Last updated: Saturday, January 2, 2010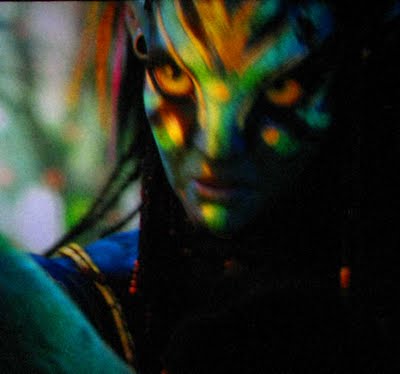 We just got back from seeing the Avatar movie and on the ride back through a snow storm both had to agree that we didn't like it. It wasn't like Avatar totally sucked or anything but the overall movie experience, beyond some fairly cool 3-d effects, actually did kind of leave me feeling empty like when I eat white rice and General Tao Chicken; it's good going in my mouth but half an hour after it's gone I'm feeling empty and tired, lacking real nutrition.
The eye-candy was decent, much of the fantasy world of the blue people reminded me of Myst, or some other video game background, but the story was rather dull and the violence made the movie a real let-down.
We had been looking forward to seeing more 3-D movies since we loved Cloudy With A Chance of Meatballs so much. The Avatar hype finally got to us and so we decided to take in the 11:45 showing at the Cineplex in Brossard at the Dix-Trente shopping center even though we had to drive 60 kilometers in a New Years Snow Storm!
About 5 minutes into the movie we knew that the evil company, backed by their own private military, wanted to strip mine the paradise on Planet Pandora to haul as much Unobtainium out of the ground as possible since it's worth a fortune for humans. We're not sure why it's worth so much but apparently the military is ready to help the evil Corporation do what it takes to get this unobtanium from this planet. So the head of the corporate army base has to make sure we all know that the natives on Planet Pandora are very bad and ready to kill and the place is worse than hell. Such bad creaures should be killed! Especially when they are un-knowingly living on a huge deposit of Unobtanium.
So the corporate army had this strange mind-transfer machine that allowed the Americans to occupy bodies of the natives and to remotely control the bodies to get information and maybe convince the savages to move away from their sacred land so the corporation could rip open the land like the Alberta Tarsands and suck every last penny out of the ground. Or maybe like Iraq?
The trouble is that the natives considered this huge tree that covered the unobtanium to be a sacred place that contained the thoughts, memories and voices of all the ancestoral natives who had ever lived before. Damned savages! How ignorant!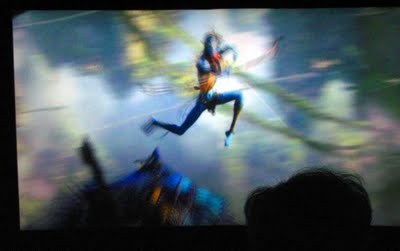 So anyway this one Marine, Jake Sully, is somehow "special" and is chosen by the dancing faeries and it is revealed that he should be brought into the tribe and learn the ways of the tribe. I guess this is where the Dances with Wolves analogy and comparison comes in…I never saw that film but I can see how such a comparison could be drawn.
I thought the Avatar characters were like Smurfs on Steroids! It was hard to sympathize with the military demons in the film but the oversized blue Avatars were just as creepy in the end; they were howling like a mob and determined to fight a losing battle with an insane drive that was like the radical religions of the world.
It wasn't until one private-army pilot turned on her own people and the marine who was living in the Avatar shell started attacking his own people that the war was finally won. But the endless fighting scenes and explosions and killing was tedious. Explosions and killing are the answer to everything? Avatar was an un-focused mash-up of transformer robots, mean dinosaurs, GI Joes with fancy weapons and big eyed blue aliens all tossed into a simplistic story of colonization that was too much white rice and General Tao.
When we left we were hungry for some substance, driving home we wanted to see that green car that had been speeding and weaving in front of us overturn in an accident on the black ice and slush…something real!!